An unrivalled destination
Fishing at the Ebro Delta
Looking for an unforgettable fishing experience? Head to the Port of Deltebre in the Riumar holiday village, located in the estuary of Spain's river Ebro. This is the home port of our boats and where we start our fishing adventures. Inshore and coastal waters offer you a variety of predators and large pelagics. Offshore there aren´t limits in light tackle and big game fishing.
Real big game and light tackle in sunny Spain.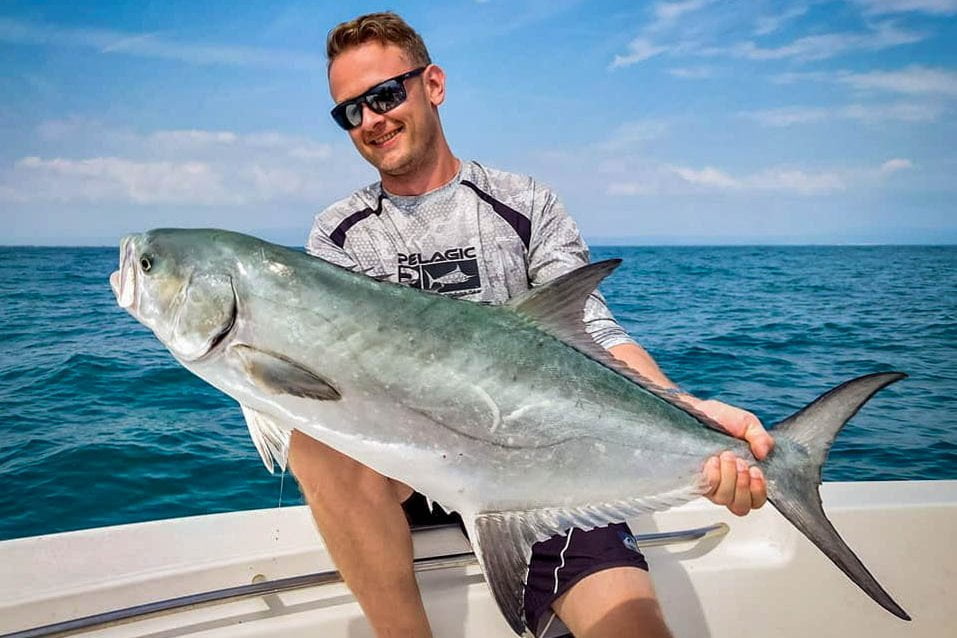 Book your fishing trip and a professional skipper who will be your fishing guide advising you so you can enjoy your passion and meet your fishing goals.
Be surprised by the great variety in the Ebro Delta and Mediterranean Sea.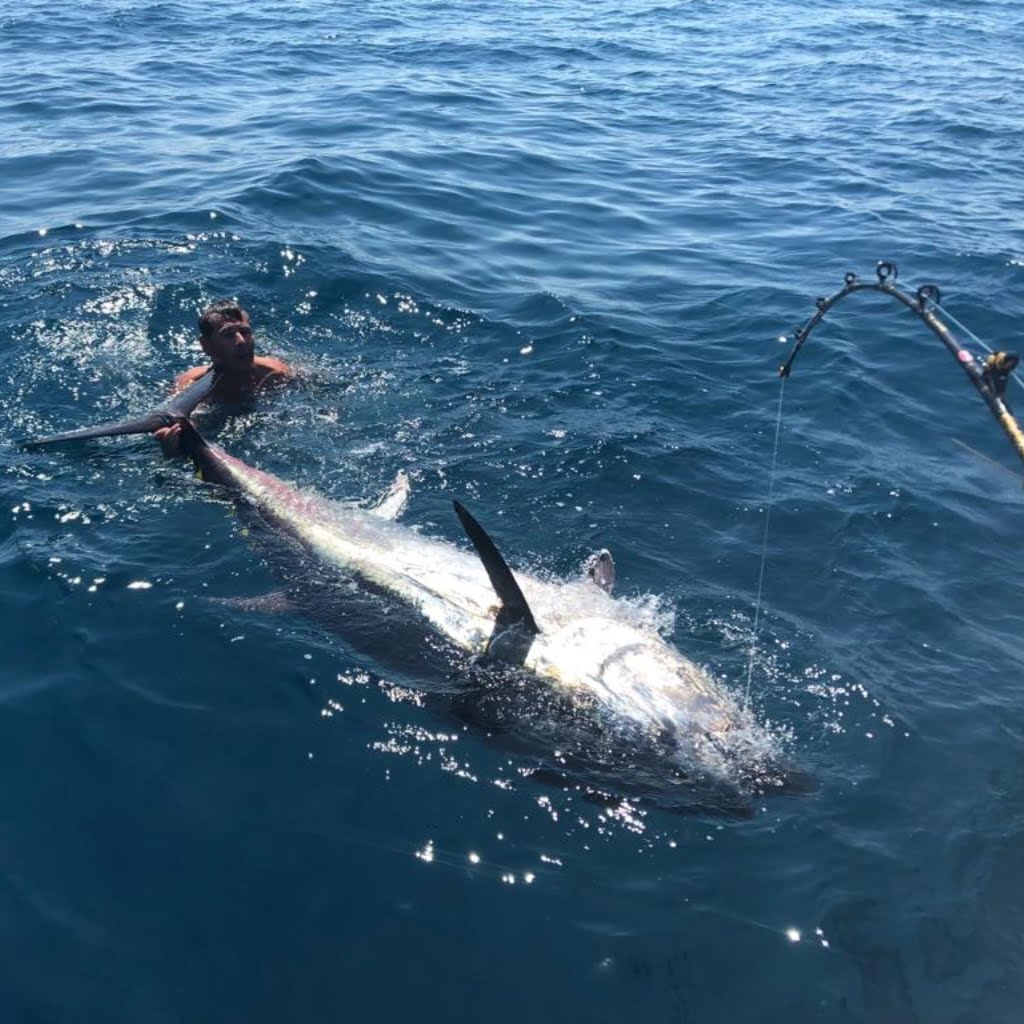 If you are looking for pelagic fish such as mackerel, bonito and dolphinfish, or large tunas, get aboard to go in search of them with an offshore trip.
This is your type of fishing if you want to catch some of the most emblematic species of the Ebro Delta, such as sea bass, bluefish and leerfish.
Since the moment we leave the harbour we are already in the fishing area. In the river we can find both freshwater and saltwater species that search for food many kilometers upstream.
Which is the best period?
Feel free to click the chat for a current update on catches now.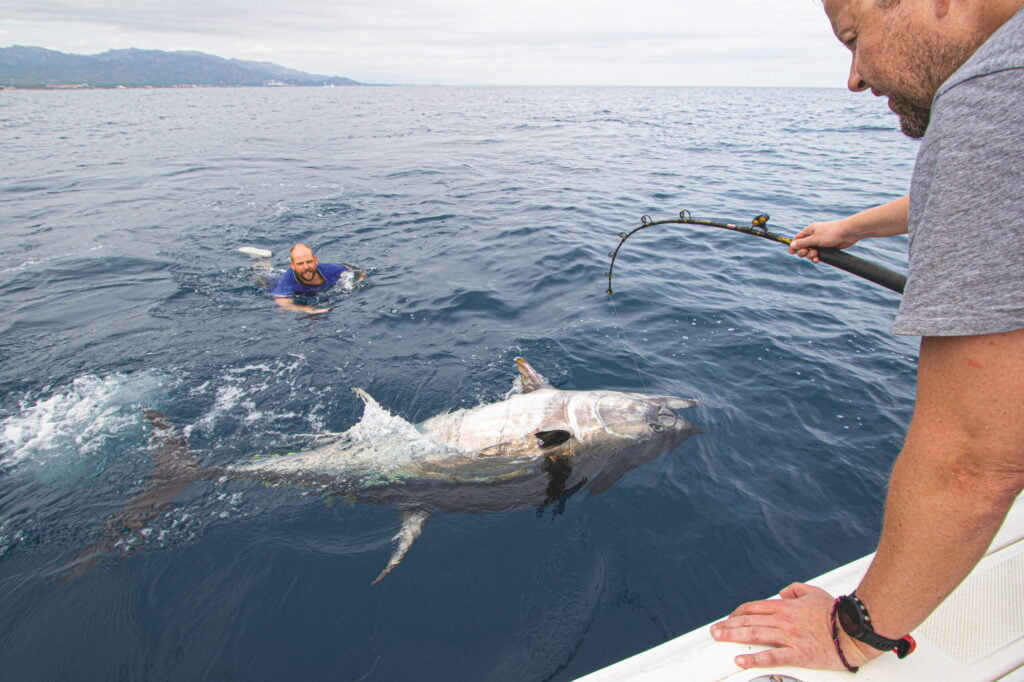 Chumming can be practiced all year round. With this technique it is not uncommon to catch specimens of more than 200 kg. Our current record is 450 Kg+.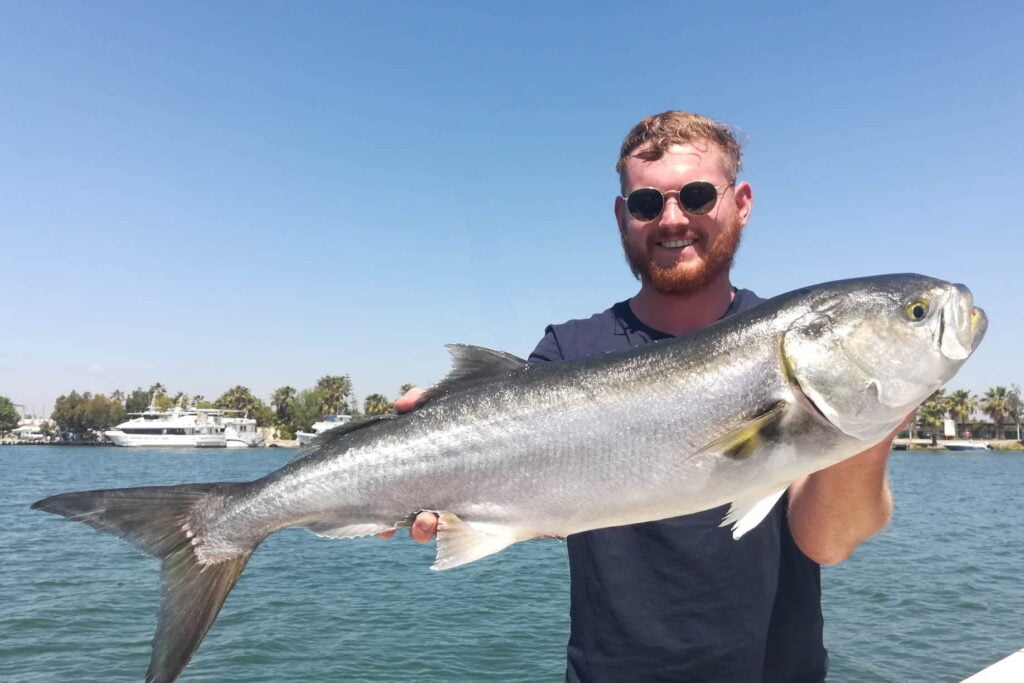 Bluefish is found all year round both in the river and on the coast. The best season is from mid-March to early November.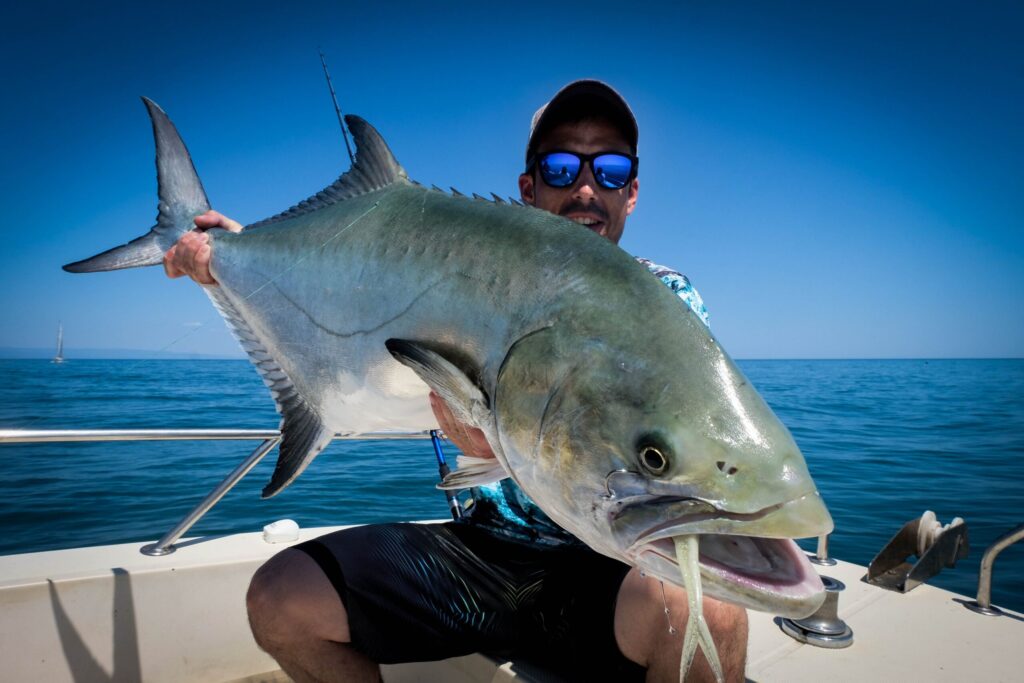 They are common in coastal waters. We can find the largest specimens from mid-March to the end of November.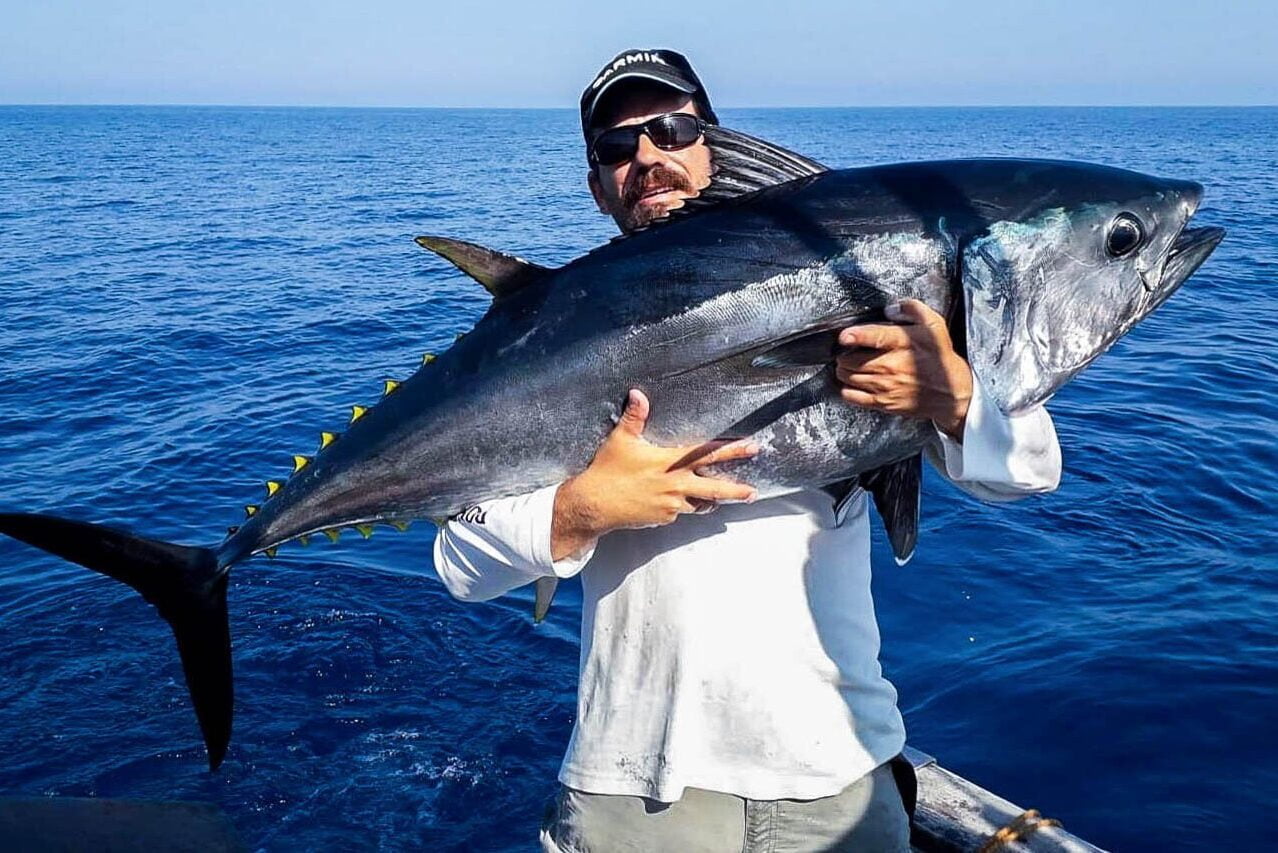 The best periods for this fishery are from March to the end of May, and after spawning, from mid-July to the end of November.
The first specimens appear during the month of August, and grow rapidly during the months of September, October and November.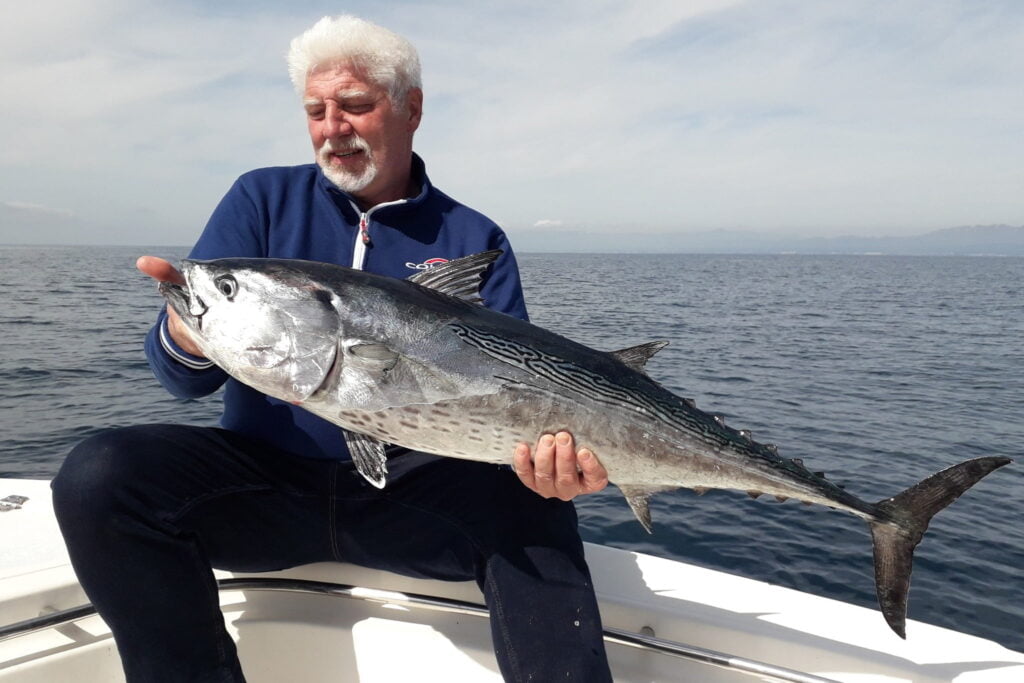 They are common from April to mid-June, and after spawning from mid-July to the end of October.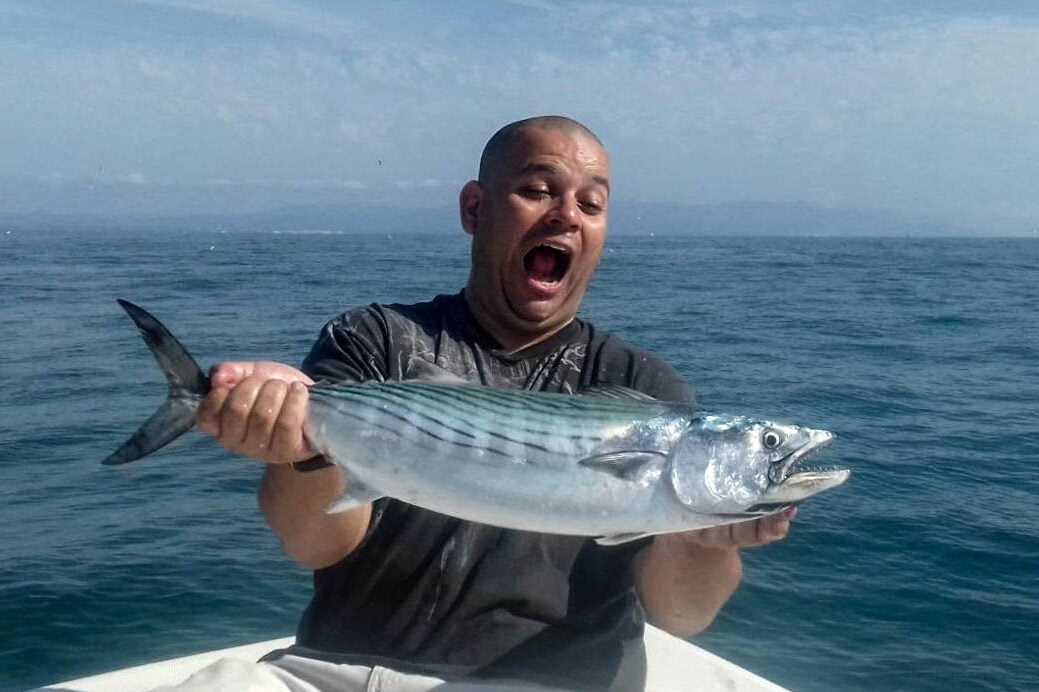 They can be fished from May to the end of October.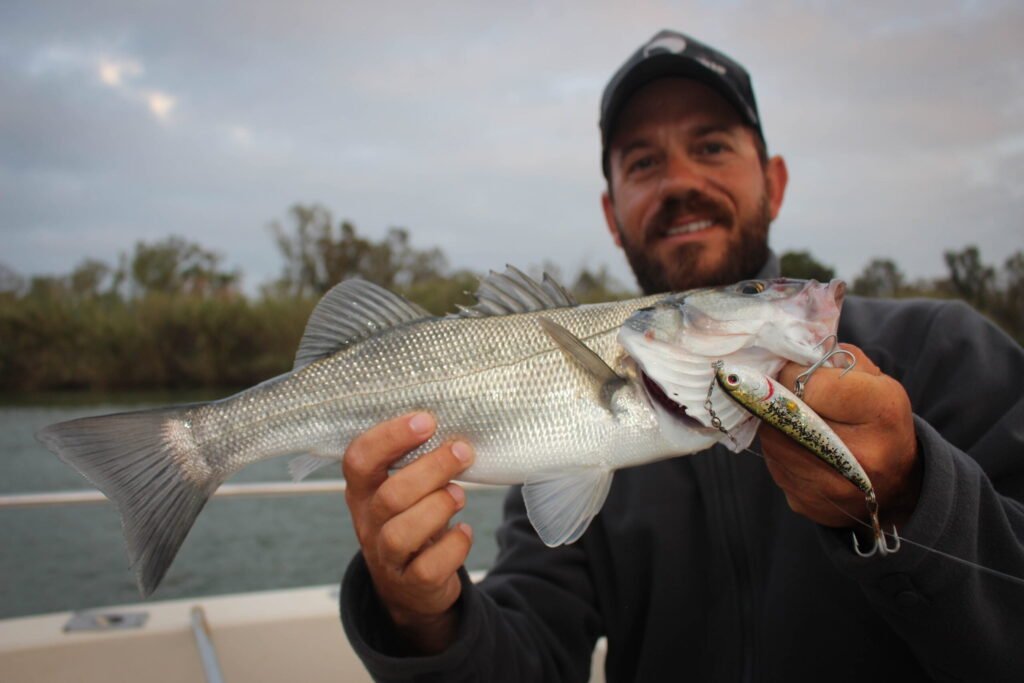 Sea bass can be fished year-round, but larger specimens are more common during the winter months.
Larger specimens can be caught in June and July, and September and October. Juveniles will also appear in September and October.
Europe's top destination for large and small pelagic fish
175 km south of Barcelona. Several flights available daily.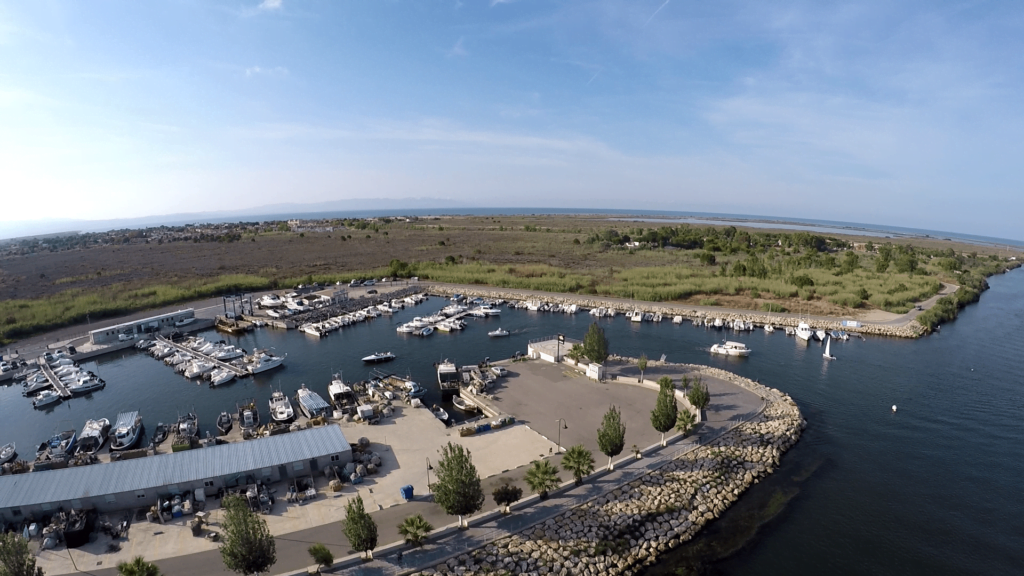 LIVE A UNIQUE EXPERIENCE!
Moored in the port of Deltebre, in the Riumar holiday village, both boats are perfectly equipped for fishing, both in the river and in the sea, as well as for a relaxing family boat trip.
Mercury is our choice for four-stroke outboard engines, and they have all the necessary equipment to navigate safely and comfortably up to 12 miles from the coast.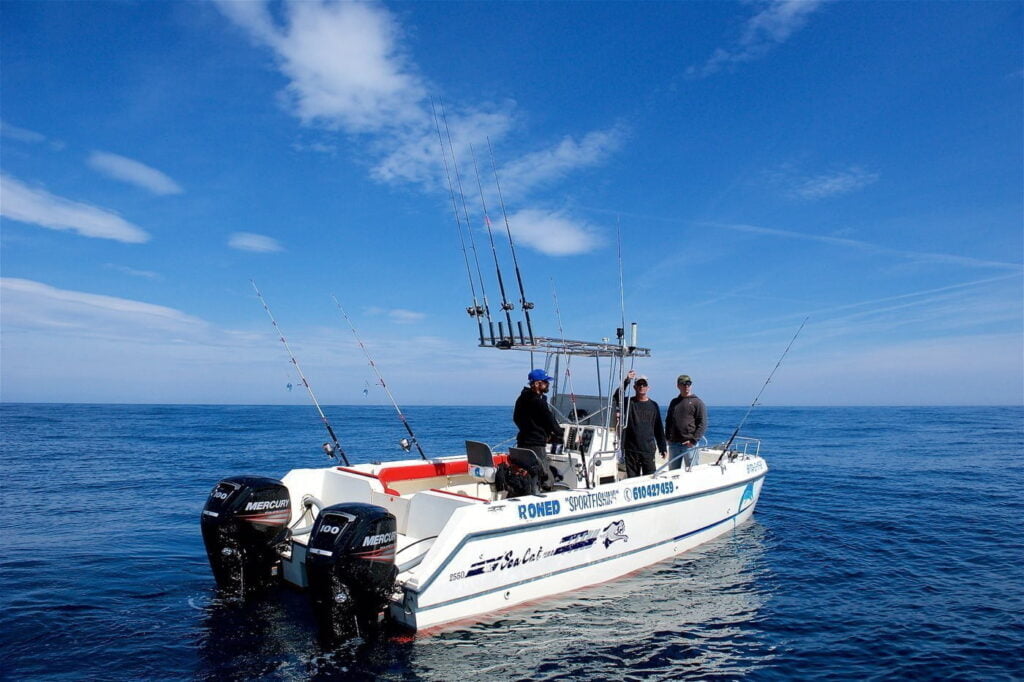 7.80 meters catamaran with twin 100hp engines. Equipped with GPS, humminbird fish finder, vhf radio and 18 rod holders.
 7.10 meters monohull with a 200 hp engine. Equipped with GPS, fish finder, vhf radio and 12 rod holders.
Our experience is the key to your success.
With more than 25 years of experience, Ron will take you to the best fishing spots in the Ebro and the Mediterranean Sea. His experience will guarantee you the best fishing opportunities.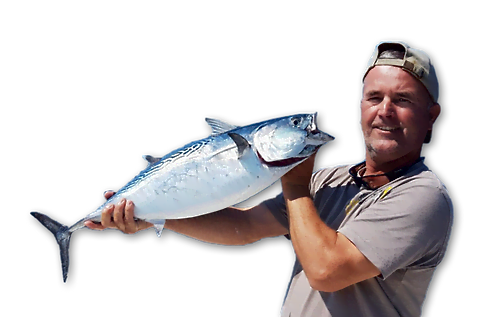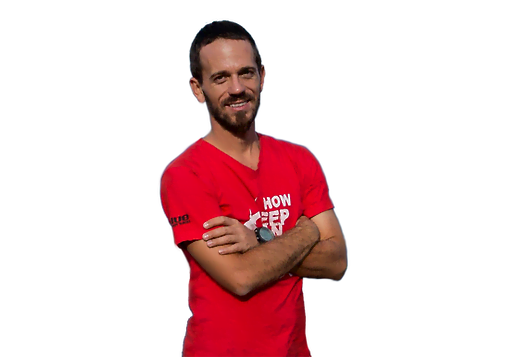 Javier joined the company in 2016 as a professional skipper and fishing guide. With more than 15 years of experience working at sea as a skipper and guide in different leisure activities, Javier will make sure you enjoy an unforgettable fishing day.
NO NEED TO BRING YOUR OWN EQUIPMENT!
We have the best fishing equipment at your disposal
Our sport fishing charters include all the necessary equipment and we have specific gear for each type of fishing we practice. From light spinning rods, trolling rods, extreme popping equipment, to the heaviest chumming equipment for giant tuna, everything is included in the price and at your disposal when you book a fishing trip with us.
SFS offers various accommodation options in the friendly holiday village of Riumar. A large selection of bars and restaurants offers you a wide culinary choice. The spacious sandy beach is no more than 400 metres from the accommodations. The harbour where the boats are moored is about 1,200 metres away. Riumar is also a very suitable destination for a family holiday.
Superb villa with private pool, 4 bedrooms, 2 bathrooms, large private garden and private parking for four vehicles.
HUTTE-000373 DC 63
Spacious apartment with two bedrooms, dining room/kitchen, bathroom and a 50 m2 terrace with magnificent views of the Ebro delta natural environment.
HUTTE-000439 DC 39
Luxury apartment with 3 bedrooms, fully equipped kitchen, dining room, 2 bathrooms, 2 balconies one of them with sea views, air conditioning, pool and a private parking space.
HUTTE-000440 DC 87
Do you need other accommodation?
If none of these great value for money accommodations meet your needs we can help you find other accommodations that suits your requirements.
Sport Fishing Charters Prices For Season 2024
Sport fishing trips include certified skipper/guide, boat fishing license, bait, fuel and use of all necessary angling equipment. So you really don't need to bring anything with you unless you prefer to use your own rods and reels.
You can choose from coastal fishing and offshore fishing. Coastal fishing mainly trolling and spinning for bluefish, leerfish and smaller mackerel species. Offshore fishing, chumming or hunting for bluefin tuna, little tunny, dolphinfish and smaller tuna species.
Price per 6-hour charter for inshore/coastal fishing €575.00*
Price per 6-hour charter for offshore fishing €675.00*
For a personalized charter or of a different duration, ask for a quote.
*This price is to be divided by the number of anglers on the boat. We can find likeminded anglers to share the cost if required.
Fill in and send the following request for quotation and we will contact you as soon as possible.